SEO North Sydney & Web Design
SEO NORTH SYDNEY & WEB DESIGN is a full-service Sydney Digital Agency specialising in SEO, Web Design, PPC/Adwords Management, Content Marketing, and Facebook Advertising. SEO North Sydney was founded by Brian M Logan, a man with over 20 years' experience in SEO and the Web, and over 25 years' experience with the written word.
​Brian brings a vast array of senior C-Level skills to the corporate table. His extensive knowledge and experience cover multiple industries including Film & TV, the Web, Events, Marketing, Print Advertising and Sales Management.
​With offices in Sydney and on the Central Coast, Brian runs a team of dedicated SEO and Web Design experts who pride themselves in implementing cutting edge digital marketing techniques to help small businesses throughout Sydney, the Central Coast, Newcastle and beyond dominate their business vertical… without breaking the bank.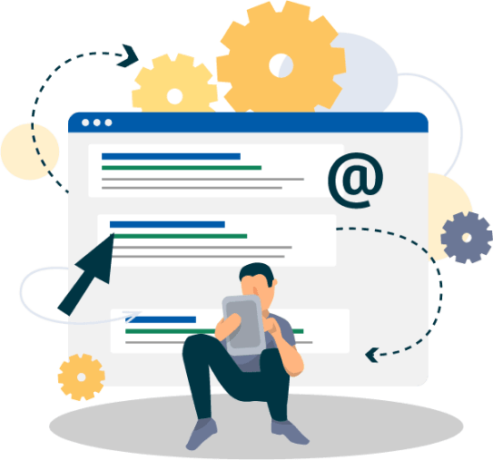 ABOUT BRIAN M LOGAN
Brian M has been an integral member of the web industry since August 14, 2,000 when he produced and launched Australia's first-ever streaming film and music website, IndieFilmWeb.com (launched 4 years before YouTube). He has been designing websites and getting companies on the first page of Google ever since.
An AWARD & Masterclass graduate and a professional screenwriter and novelist repped out of Hollywood by WME one of the world's 'Big 4' agencies, Brian is one of Australia's leading SEO copywriters and content marketers.
Brian is also one of Australia's leading SEO Trainers. Recent SEO Training clients include Jawapos (Indonesia's oldest newspaper) who flew their CEO and several senior staff to Sydney for SEO Training from Jakarta. Bullseye Digital (who flew their SEO staff in from Singapore for SEO Training), Newcastle University (who booked their entire IT Department in for SEO Training), and Hitachi, who booked in three separate divisions, flying them in from three states around Australia for SEO training at their Head Office in Ryde.
CONTENT CREATION
Post the Panda algorithmic update by Google in 2012, content creation is the single most important SEO component a website can control. Fortunately Brian is a professional writer with over 20 years' experience with the written word who marries his extensive knowledge of Search Engine Optimisation with his ability to craft exceptional online copy that Google loves and human beings respond to.
Brian is Australia's leading SEO copywriter. A Marketing Grad, an AWARD and Masterclass Copywriting Grad, Brian is also a professional screenwriter and novelist repped out of Hollywood by William Morris Endeavor (one of the world's 'Big 3' agencies) and managed by Circle of Confusion (who manage the directors of the Matrix among others).
Brian's Screenplay, 'The Nihilist, the Bag & the Rock'n Roll Launderette'
Brian's screenplay, 'The Nihilist, the Bag & the Rock'n Roll Launderette' was a finalist (Top 10 out of 6,048) in the Nicholl Fellowship in Screenwriting in 2003. The Nicholl Fellowship is the world's largest screenwriting contest and is run by the Academy of Motion Pictures Arts and Sciences (the folks who give out the Oscars). Brian was the first ever finalist to come from outside of America or Canada in the 27 year history of the competition, and the Academy flew Brian to Hollywood and put him up at the Beverly Hilton hotel for a week for the presentation and award ceremony (#cabana-suite-baby!).
Brian's book, 'Monster Town' was recently set-up at a major Hollywood Studio (Sony) with the producer of 'John Wick' and the writer / producer of 'Dexter' and '24' attached. The book is being developed as a TV series in the vein of 'True Blood'.
Brian co-developed the character of 'Sam Small' and wrote the script for the 30 second animation video for insurance giant AON and award winning agency, Deepend (click here to VIEW AON ANIMATION), as well as researching and creating SEO Strategy & Execution Documents for award winning agency, Bullseye-Digital. He has a new horror novel due out early 2019 and a children's book due out in late 2018.
FILM | TV | CORPORATE VIDEOS | TVC
In his 20s Brian studied acting full time for 3 years and graduated from Australia's prestigious ACARTS (ne. CPA) college (South Australia's version of NIDA), where he was taught by such luminaries as John Noble ('Fringe') and Oscar winner Geoffrey Rush.
Brian worked as a professional actor for nearly a decade, during which time he acted in 6 feature films, co-starring in 3 (opposite Ray Liotta, Julian McMahon, Kevin Dillon, Elliot Gould, Garry McDonald, Lance Henriksen, Ernie Hudson, Christopher Atkins, among others etc).
Brian also wrote, directed and produced several award winning short films, and has taught acting and television presenting professionally.
SALES | SALES MANAGEMENT | C-LEVEL NEGOTIATIONS
Brian has personally sold over $3,000,000 in sponsorship and advertising to some of the largest companies in the country (such as Apple, IBM, Sony, Microsoft, Ericsson, Dell, Commonwealth Bank, Westpac, HSBC, PricewaterhouseCoopers, Deloitte, Autonomy, etc, as well as to various Australian Federal and State government departments) and he has run sales teams of between 5-200 people. And – due to his innate ability to motivate others – he has been described as a 'Change Agent' in the workplace when running a team.
All of which means that Brian has significant C-Level negotiation and sales skills which can be utilized to land major accounts for whoever he is working for. Be it at the 'big end of town' (Fortune 500 companies, et al), or in the SME (20-500 employees) or SOHO spaces.
TECHNOLOGY TRADE SHOW EXPERIENCE
Brian is an expert with over a decade experience in the events' field. He has project managed, produced, launched, marketed and run – from conception through to delivery – everything from 3 hall trade shows at Darling Harbour, to web-sites, Gala Dinners, conferences, congresses, consumer shows, road shows, award nights, breakfast meetings, web-site launches, film festivals and seminars.
Event highlights include: producing Digital Media World and the Effects & Animation Film Festival. Producing the official AMPTA (Australian Mobile Telecommunication Authority) Congress. Producing Australia's largest 'Broadcast' expo (Australia's answer to NAB). Producing and launching Knowledge Management Australia. Producing and launching 'The National Growth Summit'. And producing and launching the first annual Health and Productivity Management Congress (with Tony Abbott and Kate Lundy as keynote speakers). Notable firsts include, digital television being officially launched at one of Brian's shows by the then Australian Federal Minister for Technology & the Arts, Senator Alston. And the first ever live streaming of an expo being initiated by Brian at one of his shows.